BPSC Syllabus 2021: The BPSC Syllabus is set by the Bihar Public Service Commission. BPSC is responsible for carrying out recruitment to multiple posts such as Sub Divisional Officer, Rural Development Officer, District Sanapark Officer, etc. BPSC select meritorious candidates for appointment into the civil service jobs in the Indian state of Bihar according to their merit.
The BPSC Exam (Combined Competitive Exam) is held in three stages:
Prelims – 1 objective type paper for 150 marks
Mains – 4 descriptive papers (1 qualifying + 3 merit ranking)
Interview – 120 marks
Candidates can check the detailed BPSC Syllabus and Exam Pattern 2021 from the below article.
BPSC Syllabus 2021: Overview
| | |
| --- | --- |
| Organization  | Bihar Public Service Commission (BPSC) |
| Post Name | Sub Divisional Officer, Rural Development Officer, District Sanapark Officer, etc |
| Category | Syllabus & Exam Pattern |
| Official Website | bpsc.bih.nic.in |
BPSC Exam Pattern 2021
The direct recruitment of the candidates is made mainly by way of conducting the competitive examination in which the selection is done on the basis of the following procedures. The candidates have to clear every stage of examination to be appointed as a civil servant of Bihar.
Prelims: One objective type paper for 150 marks.
Mains: Four descriptive papers
Interview: 120 marks
| Stages | Type of Exam | Mode | Total Marks | Duration |
| --- | --- | --- | --- | --- |
| Prelims | Objective | Offline | 150 | 2 Hours |
| Mains | Subjective | Offline | 900 ( 3 Papers of 300 marks each) | 3 Hours for each Paper |
| Personal Interview | Physically Present | Offline | 120 | Not Defined |
A candidate has to clear one stage in order to be eligible for the subsequent stage, i.e, if he/she clears the prelims, he/she moves onto the mains, clearing which he/she would be summoned for the final stage (interview) of the BPSC Exam 2020. The Bihar PSC exam is modelled loosely on the IAS Exam which is conducted by the Union Public Service Commission.
BPSC Syllabus Marking Scheme
Marks of BPSC Prelims Paper be considered for qualifying candidates for the mains exam.
There will be no negative marking in the BPSC exam.
BPSC Prelims is screening in nature.
All the questions are set in English and Hindi except for those questions which are meant to test the candidate's knowledge of English.
BPSC Syllabus 2021
BPSC Prelims Syllabus 2021
This is the first stage of the BPSC Exam. The topics covered under BPSC Prelims are given as below.
| | | |
| --- | --- | --- |
| General Science | Events of national and international importance | History of Bihar and Indian History |
| Geography(mainly Geography of Bihar) | Indian Polity and Economy | Changes in the economy of Bihar post-independence |
| Indian National Movement | General Mental Ability. | Role of Bihar in the Indian Nationalist Movement |
Here is a detailed syllabus of the BPSC Prelims Exam 2021
General Science (General understanding of science, including matters of everyday observation and experience). The questions on Science and Tech will be such that they do not require subject specialization.
Current Affairs of National/International importance
History of India and Bihar: General understanding of the subject with the broad aspects of the history of Bihar.
Geography of India and Bihar: Questions will relate to the physical, social and economic geography of the country including the main features of Indian agricultural and natural resources
General geography and geographical division of Bihar and its major river systems
Indian polity: Questions will test knowledge on the country's political system, Panchayati Raj, community development and planning in India and Bihar
Indian economy and economy of Bihar post-independence
Indian Movements and Contribution of Bihar in it: Question will relate to the nature and character of the nineteenth-century resurgence, growth of nationalism and attainment of Independence with special reference to Bihar
Under the Indian Economy and Polity, the questions will cover the following topics:

Indian Political System
Panchayati Raj
Community Development
Planning in India and Bihar

Under the Indian National Movement, candidates have to focus on the resurgence in the 19th century, nature and growth of nationalism in India, and India's independence. Also, the role of Bihar in the Indian National Movement is important from the BPSC exam point of view
Questions based on General Mental Ability
BPSC Mains Exam Pattern 2021
Here the BPSC Mains Exam Pattern is given below.
Stage of Exam
Paper
Total Marks
Duration
Main Exam (Subjective)
General Hindi (Qualifying)
100
3 Hours
General Studies Paper 1
300
3 Hours
General Studies Paper 2
300
3 Hours
Optional Paper
300
3 Hours
BPSC Syllabus: Mains Marking Scheme
Questions of General Studies are available in Hindi and English both.
The score will be arrived at by considering the total of 900 marks in GS Paper 1, GS Paper 2, and Optional Paper.
The candidates who are placed suitably in the merit are called for the interview.
There is no negative marking in the descriptive question papers.
Candidates need to attempt all the papers to qualify for the Interview round.
This round is both scoring and qualifying in nature.
Qualifying Paper: General Hindi
The paper of General Hindi is qualifying in nature. The syllabus this Paper is of the level as that of the Bihar School Education Board (BSEB). The paper is of 100 marks and subjective in nature, and the marks distribution is given below:
Essay: 30 Marks
Grammar: 30 Marks
Syntax: 25 Marks
Summarisation: 15 Marks
Out of the 100 marks, candidates are required to secure the qualifying marks in the paper. For this qualifying paper, a good book of school standard is enough.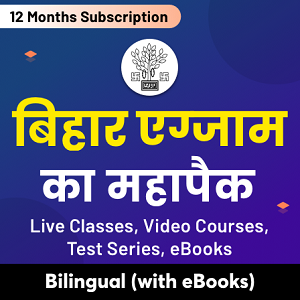 General Studies Paper
The marks secured in the BPSC Prelims Exam and General Hindi paper are not included in the merit lists. The actual BPSC exam starts now with the General Studies Papers and the Optional Paper. There are two Papers for the General Studies and one for the Optional. Each Paper carries 300 marks making the total marks from all these papers to be 900.
General Studies 1
General Studies 2

Indian Culture
Modern History of India
Contemporary events of national and international importance
Statistical Analysis, diagrams and graphs

Indian (and Bihar) Polity
Indian (and Bihar) Economy
Indian (and Bihar) Geography
Role and impact of Science and Technology in the development of India (and Bihar)
Below is the detailed syllabus for the GS Papers and the Optional Paper:
Syllabus of GS Paper 1
Modern History of India and Indian culture: History of the country with special reference to Bihar in the middle of the nineteenth century, the introduction and expansion of western and technical education, Bihar's role in the Indian freedom struggle, the Santhal Uprising in Bihar, Birsa movement, Champaran Satyagrah, the Quit India Movement, chief features of Mauryan and Pal art, Patna Qulam painting, Roles of Gandhi, Tagore, and Nehru
Current events of national and international importance
Role of Bihar in the Indian National Movement

Santhal uprising
1857 war of independence
Champaran Satyagraha
Quit India Movement 1942

Mauryan and Pala Art/Pala Sena Art
Patna Kalam Paintings
Statistical analysis, graphs, and diagrams: Questions to test the ability to draw conclusions from statistical, graphical or diagrammatical information and to point out deficiencies, limitations or inconsistencies.
Syllabus for GS Paper 2
Indian Polity: Questions based on the political system in India including Bihar.
Indian economy and Geography of India: Questions on planning in India and the physical, economic and social geography of India and Bihar.
The role and impact of science and technology in the development of India: Questions to test awareness of the role and impact of science and technology in India and Bihar with special reference to applied science.
Optional Subjects For BPSC Mains Exam 2021
In BPSC Mains, candidates have to select one optional subject out of 34 subjects. There will be only one optional subject exam for 300 marks and the questions will be of Honours Level (3-year course in Patna University). The choices are given below and the syllabus for optional subjects can be viewed in the BPSC Syllabus PDF.
English Language and Literature
Urdu Language and Literature
Hindi Language and Literature
Persian Language and Literature
Arabic Language and Literature
Pali Language and Literature
Maithili Language and Literature
Bangla Language and Literature
Sanskrit Language and Literature
Chemistry
Sociology
Physics
Agriculture
Statistics
Botany
Zoology
Philosophy
Political Science and International Relations
Psychology
Public Administration
Labour and Social Welfare
Management
Mathematics
Mechanical Engineering
Geography
Geology
History
Law
Civil Engineering
Economics
Commerce and Accountancy
Electrical Engineering
Animal Husbandry and Veterinary Science
Anthropology
BPSC Personal Interview Test
The candidates selected in order of merit on the results of the Main Exam shall have to appear for the final and last stage of the BPSC Exam i.e. Personality Test. Each candidate will be asked questions on matters of general interest. The objective of the test will be to assess the candidate's personal qualities e.g., alertness of mind, power of clear and logical exposition, intellectual and moral integrity, leadership and also the candidate's range of interests.
[ad_2]
Source link